FAQs for Adoptive Parents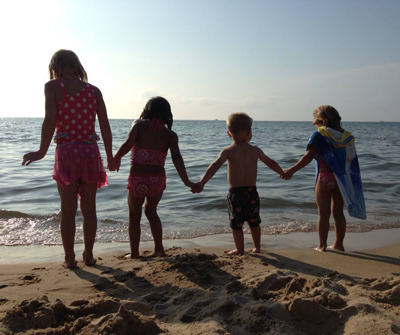 How long is the average waiting period to adopt through CHS?
The average wait is between 12 to 18 months, but we stress the word "average". The wait time is unpredictable as it depends entirely on being selected by birth parents.
How large is the adoptive parent pool?

We try to maintain 8 to 10 waiting couples in our pool. We are relatively small in scope as we are local to northern Lower Michigan. We want to provide birth parents a wide array of families to choose from while giving couples realistic expectations they will be chosen.
How many children does CHS place?
We have placed more than 550 infants since our first open adoption in 1980. We have averaged about six placements per year over the past 10 years.
What are your eligibility requirements?
The basic requirements are these:
Marriage: Applicants should be married for at least two years.
Residency: Adoptive families must reside in northern Lower Michigan.
Religion: We are receptive to all families regardless of faith.
Housing: Adoptive families must live in a clean, safe place with sufficient space to promote wholesome family life.
Health: Adoptive parents must have usual life expectancy and demonstrate emotional and mental stability.
Age: There are no age restrictions for married couples.
How much does the program cost?
Our fees continue to be among the least expensive of all agencies in Michigan. We recognize that the costs of adoption are formidable and can create a major challenge to most families. We are a non-profit agency which means that we are non-commercial and our program is not motivated for profit. We will be glad to discuss fees once you contact us.
Is open adoption co-parenting?
No. The adoptive parents are the legal and emotional parents. Openness does not detract from the permanency of parenting. Rather, it establishes an atmosphere of candor in which the ongoing needs of all parties are honored.
Who are our birthparents?

Birthparents who plan adoptions through CHS vary in age and background, but most have long-term plans for their lives and all care deeply about the welfare of their children. A tremendous amount of love and foresight goes into their decisions.
What is open adoption?

Not an easy question to answer in just a few sentences. But the basic process is this: Birthparents choose the adoptive family that they want to raise their child. Together the adoptive family and the birthparents create a plan for ongoing visits and the exchange of photos, letters, etc.
What if we're unsure about open adoption?
Consider yourselves in the majority. Most applicants come to CHS with apprehensions about open adoption. This is normal. We find that nearly everyone, once they get a better understanding and feel for openness through our classes, come to embrace this approach.
How is the adoptive family chosen?

Birthparents choose the adoptive family. All of our prospective adoptive couples create portfolios full of pictures and information that provide birth parents an accurate overview of who they are. Portfolios also contain a "Letter to Birthmother" as a means to connect personally. Birth parents also review a home study report the agency has prepared for each waiting family.
What if we are selected by someone we don't really enjoy?
Since birth parents look for common ground when they choose the adoptive family, the two families almost always hit it off. To be on the safe side, though, the process features an initial "no obligation" meeting where the participants get to know each other and see if they click. If either party is uncomfortable with the "fit" (again, which is rare), it is possible to go back to the drawing board without too much awkwardness.
How often do birthparents change their minds?
Our experience suggests that about 15% of the time birth families change their thinking about adoption around the time of delivery. But we're not so sure these turnabouts are as terrible as people sometimes make them out to be. We think it is a good and decent thing to give birth parents a chance to catch their breath and think things through, and we're pretty sure you see it the same way. Surely that's the way any of us would want to be treated if we were wearing their shoes. Take heart in the fact that once the legal forms have been signed in court -- usually about four weeks after the baby is born -- the adoption is on solid ground and the anxiety passes.
Will we ever get picked?
As mentioned, the selection process is ultimately unpredictable. We know what the last 10 birth families had in mind, but the next one may be looking for something quite different. Birth families have been very sensible in their choosing. Like everyone else, they are attracted to characteristics that are well regarded in our culture. They like people who are friendly, successful yet humble, humorous, and active. More than anything, they are looking for families they can feel comfortable with and trust. Over and over birthparents tell us they are looking for a family that is like them but better prepared to raise a child. We have learned that it is far more important to be "big-hearted" rather than "fancy". We can't make guarantees, but our experience shows that warm-hearted applicants who are blessed with patience usually find their wait rewarded.
What's the next step?

Please call us at 231-947-8110 or email us with questions.